The Times Educational Supplement, News, February 2012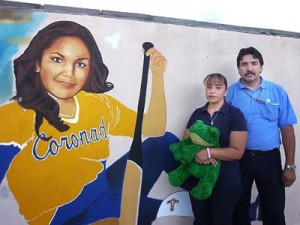 In 2008, El Paso schools counsellor Susan Crews began to see a rise in disturbing behaviour among the children in her care. Many had problems concentrating and were withdrawn or disruptive, some were hypervigilant – startled by the slightest sound. Others suffered frequent headaches and stomach aches and were scared to leave their parents at the school gates. All are symptoms of post-traumatic stress disorder (PTSD).
El Paso, Texas, lies 10 minutes across the US-Mexican border from Juarez, a key arena in the war between rival drug cartels. The relentless violence of the past three years – seven to eight people were killed in the city each day during 2010 – has earned Juarez the unenviable title, world's most dangerous city.
As Mexican families flee Juarez for safety across the border, schools in El Paso are filling up with traumatised children. Ms Crews estimates that 80 per cent of children are affected, from witnessing the murders of family members to seeing dead bodies and severed heads on the streets or losing friends caught in the crossfire on visits back across the border.
And yet – because of a combination of shame, Mexican cultural attitudes and fear for their own safety – these children are reluctant to talk about what they've been through.
Laura Olague runs the Children's Grief Centre of El Paso. Typical of the children she's helped recently is a 10-year-old girl who lost her father. The child was staying with him in Juarez when armed men stormed the apartment, dragged him into the front yard and murdered him. When Olague first met the child, she was fearful, performing poorly at school and not sleeping or eating properly. Convinced the murderers would come back for her, she refused to talk about her father's death. Two years on, she is making progress.
Olague worries that a number of schools in El Paso are encouraging the children's secretiveness. Concerned about safety on campus, they have adopted policies forbidding children from discussing the violence. "The schools just don't know how to handle the problem," she said.
Nor do they have the resources. Some children are legal American citizens returning to their country of birth, or from well-to-do Juarez families who have crossed over legally, but others are undocumented. And there is public hostility, Ms Crews believes, towards diverting scant resources to treat illegal immigrants.
Ms Crews and her colleagues are overwhelmed. The therapy they can offer is at best short term. First, they must train teachers to recognise the signs of trauma – to realise that a child staring into space may not be inattentive but suffering from PTSD.
Not long ago, a 15-year-old girl from one of El Paso's schools was killed as she attended a baptism in Juarez. Ms Crews and a team of counsellors visited the school to talk to the students. "How do you feel," she asked a teenage boy, "to come in today and see this empty chair"
"I feel very afraid," the boy answered. "I don't think, 'What if someone else will be killed?' I think 'Who will be killed? Which one of us will be next?'"