The Times Educational Supplement, News, March 2012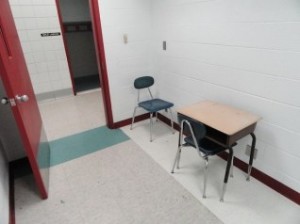 Every day between February and April last year, Lanisha Thompson's son was sent to the office. At least, that's what it said on his behaviour sheets. "The office", Ms Thompson now knows, is a 50ft2 padded isolation room. Her son, 13, has a string of mental health diagnoses. Since he was 6 years old he has been repeatedly locked in the cell-like room, often screaming, pounding on the walls and crying out for his mother.
The use of seclusion rooms to control mentally disabled and emotionally disturbed children is alarmingly widespread in US schools, says Curt Decker of the National Disability Rights Network (NDRN). A locked closet in Ohio; a time out room built within a toilet changing room in Maine; a "scream room", so called by students in Connecticut; even a duffel bag in Kentucky – these are some of the examples the NDRN describes in a new report. In Indiana, a child attempted to hang himself after being locked up for four hours and denied leave to go to the toilet.
Mr Decker is lobbying the federal government to prohibit seclusion rooms, or at least regulate their use. At present, each state sets its own rules. "Some states say 'don't do it unless …', but the 'unless' is big enough to run a truck through," Mr Decker says. Proposed legislation to ban seclusion and restraint, the Keeping All Students Safe Act, has made it through the House of Representatives but failed in the Senate. Mr Decker is pessimistic about its chances of passing any time soon.
The American Association of School Administrators is fighting a ban. It's argued that teachers rely on seclusion and restraint "to defend themselves and their students". To which Mr Decker replies that years of bad management have created this dependency: schools have failed to train their teachers in techniques such as positive behavioural interventions and supports, which are proven to de-escalate challenging behaviour. "So yes, when the situation has got so bad that people are in danger of injury or life you have no choice. The only tools left in your tool box are a bunch of duct tape and a duffel bag," he says.
Ms Thompson has lodged a legal complaint against the East Texas school district that runs her son's special education programme. She says he's spent so much time in seclusion that he's been denied his right to a free education. "They used the rooms for the wrong reasons. If he refused to work, they put him in there. If he said anything they didn't like, they put him in there. It got to the point that he would do anything he thought he needed to do to stay out of that room."
She is the first to admit that he is no angel – "He's a hellion," she says. But she believes that spending so much time in isolation has made him more antisocial, not less. A lawyer for New Caney Independent School District says the allegations are being taken very seriously and an investigation is underway. Ms Thompson – who cannot afford to educate her son privately – hopes the outcome will force the school to change its policies. "It would actually make me happy if they closed the whole [special education] section down." Until that happens, her son will continue making regular visits to "the office".