Crafts Magazine, July/August 2011, Review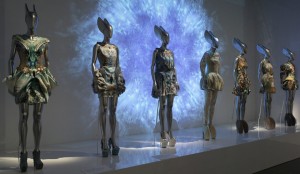 From his graduation collection in 1992 – provocatively entitled Jack the Ripper Stalks His Victims – to his lowcut bumster trousers and his spectacular catwalk shows, Alexander McQueen shocked, captivated and delighted. Even after his move to establishment fashion house Givenchy, he remained fashion's beloved bad boy, its enfant terrible. Now the Metropolitan Museum's retrospective has conferred on him a more respectable title, that of artist. He joins just a handful of designers to have been so honoured by New York's great institution.
The Met's blockbuster exhibition, just a year after McQueen took his own life at 4o, is a fantastic journey through his extraordinary imagination – at once dark, violent, exquisitely romantic, socially and politically engaged. Savage Beauty has been pulling the crowds, and deservedly so.
Curator Andrew Bolton has cast McQueen as an artist in the manner of the Romantic painters, and it's a dark sort of romance. In McQueen's world, an exuberant dress of cut flowers becomes a commentary on death and decay. A sculpted dress of black-dyed duck feathers recalls a raven, another deathly image, while accessories evoke the sadomasochistic. And yet, even at their darkest, his creations are never less than beautiful. 'I find beauty in the grotesque,' he said. 'I have to force people to look at things.'
Savage Beauty begins, as McQueen did, with old-fashioned tailoring. Even at their most radical, his clothes build on the skills he learnt during his early Savile Row training. Rather than work with sketches, he cut on the stand. He loved the old-fashioned, classic silhouette, and a nipped-in waist. His inspirations were multiple – films, books, music, an advert he spotted on the underground, a green shirt on the TV show Friends. He played with materials, delighted in making, pushed fabrics to the limit, offsetting the luxurious with the experimental: silk tafetta, damask and lace, embroidery and beading, but also medical slides coloured red, a pack of cards. Feathers recur throughout: pheasant, woodcock and ostrich. There's a dress of razorclam shells, stripped and varnished, and even skulls: vultures, crocodiles.
In all aspects of his work, McQueen pushed at the limits of the possible. As you wander through the many rooms devoted to this show, you're overwhelmed by his inventiveness, but also by the presence of his hand. According to his long time assistant Sarah Burton (now creative director of his label, and recently star designer of Kate Middleton's wedding dress), McQueen was happiest when he was absorbed in making. One dress on display here was created from hundreds of circles, laboriously cut by hand from organza; it took three people a month to complete.
While the individual pieces on display all stand on their own, each belonged to a particular collection. McQueen's starting point was always the next cat-walk show. Each show was based on a story, some of them loosely autobiographical – including the Salem witch trial and a shipwreck at sea – and ideas for the clothes followed. His shows achieved the level of performance art: meticulously choreographed, surprising, spectacular.
Bolton has recreated some of that spectacle through the dressing of each room – in one, for example, mannequins in ensembles from It's OnIy a Game are set within a series of mirrored alcoves, rotating like figures in a musical box. There's a hologram of Kate Moss, like an haute couture Tinkerbell, swathed in softly billowing fabric. Another display offers a flavour of the VOSS show from 2oo1, which featured a box falling open, its glass walls shattering as they fell to the ground, to reveal an overweight naked woman encircled by live butterflies.
McQueen conceived VOSS as a challenge to conventional notions of beauty, one of a number of deeper themes that elevated his work from mere fashion to something greater: the treatment of the Scots at the hands of the English, the appropriation and romanticising of ethnic imagery by the fashion industry and for his final show, environmental catastrophe. In the counter-evolutionary world conjured up in Plato's Atlantis, McQueen played with animal imagery – moth, snake and jellyfish patterns printed onto silk, which in the preparation he repeatedly cut and had reprinted until the patterns appeared seamless. More technically complicated than anything he'd done before, this final show was McQueen the craftsman at his most adept.
Zoë Blackler