The Times Educational Supplement, News, August 2011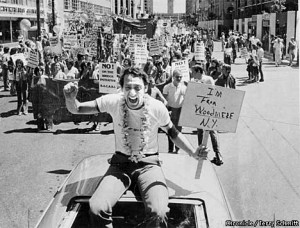 In 1950s America, when Senator Joseph McCarthy was leading the Red Scare to root out communists in public life, he was also waging another vicious witch-hunt. The Lavender Scare, a purge of gays and lesbians from federal government, lasted from 1947 until the 1970s and cost 10,000 employees their jobs.
Few American high-school students will have heard of the Lavender Scare. Any who have most probably won't have learnt about it in class.
According to Carolyn Laub, executive director of youth organisation Gay Straight Alliance, most American teenagers have only the patchiest knowledge of LGBT history.
A few years ago, before the release of the movie Milk about murdered gay activist Harvey Milk, Laub was working with 60 teenagers, the majority of them out and politically active.
When she asked if they knew who he was, only a few hands went up. "They're not learning about Harvey Milk in their history class at school," Ms Laub says. "They're not learning about the Stonewall Riots, credited with sparking the modern-day LGBT civil rights movement, or Don't Ask, Don't Tell (for 17 years, the policy towards LGBT people in the military)."
A new law in California, which came into effect last month, promises to correct that. The FAIR (Fair, Accurate, Inclusive and Respectful) Education Act – sponsored by the US's first openly gay Senator, Mark Leno – requires the contributions of LGBT people in American history to be added to social studies classes and school textbooks.
It is landmark legislation; California is the first state to adopt such an act, in part a response to the recent wave of suicides by bullied gay teenagers.
Ms Laub, whose organisation co-sponsored the bill, says studies show that when LGBT students learn about other LGBT people in the classroom, "they are more likely to feel safer at school and to report lower rates of anti- gay harassment and bullying".
California's schools have until January to implement the law, but it will be 2015 before publishers have a chance to update the textbooks. The act sets out only the broad principle, giving each school the freedom to adopt its own curriculum.
Don Romesburg, who teaches gender studies at Sonoma State University, believes that the most important lesson schools should be teaching is how recently attitudes have changed from gay people being considered mentally ill to being accepted as normal. "My own students are stunned to learn that before 1973, gay people could be institutionalised," he says. "It's very important for people to understand that."
"When you feel censored or excluded from history, it sends the message that you don't exist or that you're not valid," Ms Laub says. "It's extremely important to have it acknowledged that, yes, LGBT people are part of the story of America."